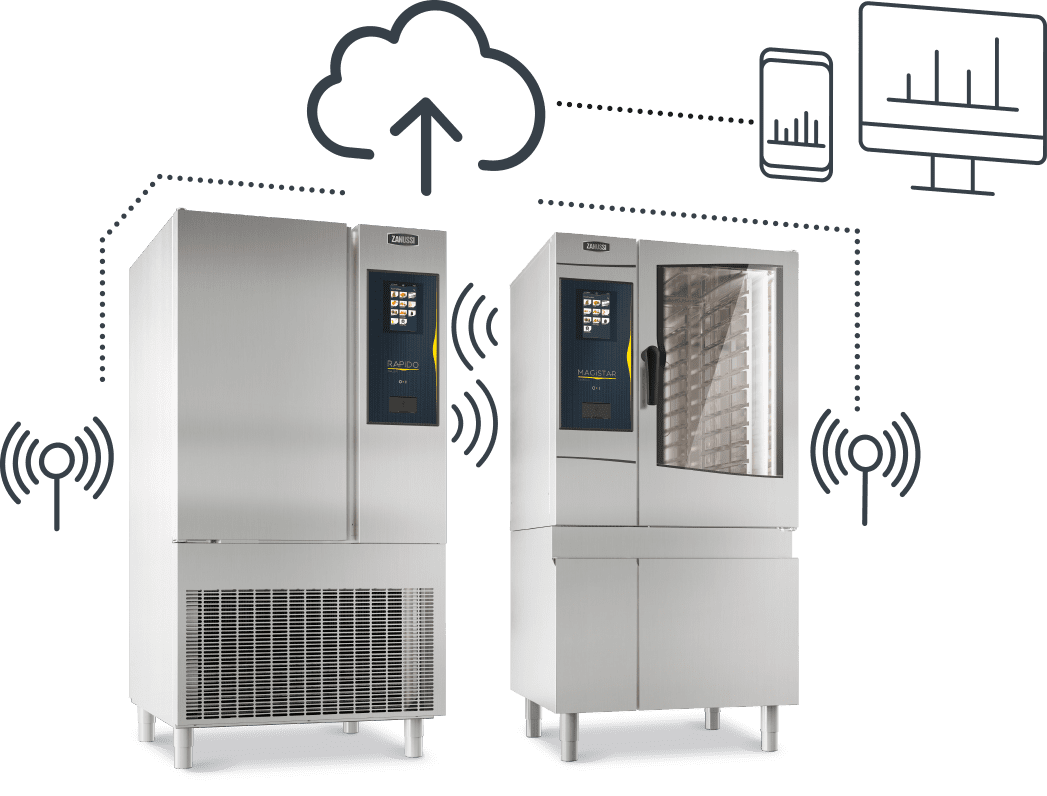 CONNECTIVITY &
MATCH FUNCTION
Monitor your operations, manage your recipes and download HACCP data from remote, thanks to the Zanussi Professional CONNECTIVITY.
The data helps you to optimize your production flow and reduce maintenance costs.
Discover the new function MATCH: Magistar Combi and Rapido Chiller communicate their current and next operations with each other in both directions (oven to blast chiller and viceversa), for a smoother and faster kitchen workflow.
You can not only cook&chill but also prove&bake or thaw&cook.
find out more

YOUR KITCHEN MOVES TOGETHER WITH YOU
8 hours of work non-stop at maximum performance – Cooking performance guaranteed overtime thanks to our induction technology designed for the most stressful conditions.
Flexibility – Versatile counter that can be customized by combining different cooking functions.
Energy Efficiency – Induction technology, available in all the Easy CookingPRO hobs, allows up to 90% energy efficiency. Resulting in 20% energy consumption savings compared to traditional electric heating system.
Ventilation – Integrated low noise air filtration system that captures grease particles and bad odors from the working area. Capture efficiency is 95% at maximum fan speed.
find out more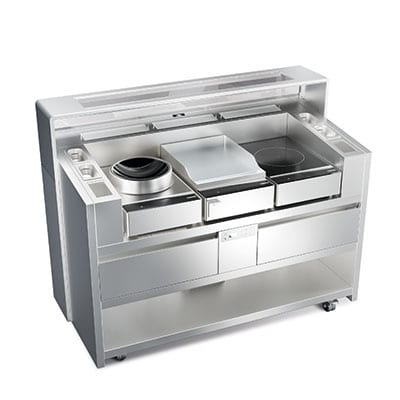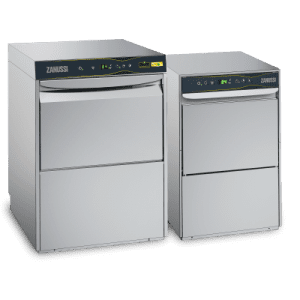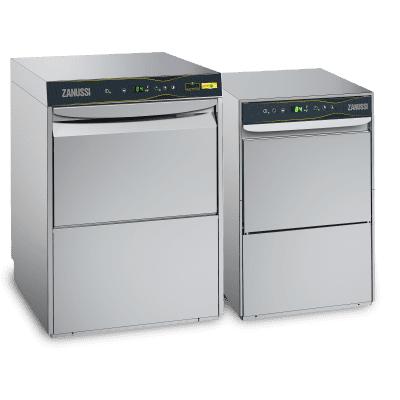 SAFETY, WITHOUT COMPROMISE
Hygiene and Performance – Perfect washing and rinsing performance thanks to slanted wash arms. Fast serving in sparkling and cold glasses with cold rinse feature.
Perfect Sanitation –  Active Guaranteed Rinse System assures constant rinsing temperature of 84°C.
Savings – Less water, energy, detergent and rinse aid consumption. Energy saving thanks to double skin construction.
Easy and Ergonomic – User-friendly control. Safe and ergonomic counterbalanced door for soft opening and closing.
find out more

PERFORMANCE, SANITATION, EFFICIENCY: DUAL RINSE RACK TYPE
Top Performance, perfect Sanitation – detergent Efficiency, improved by the advanced filtering system which removes food residues, ensures outstanding washing results, complying with DIN 10510.
Less energy, more efficiency – Heating elements stay clean and scale free, ensuring high efficiency over time thanks to automatic descaling at the touch of a button.
Last even longer – High in performance and unbeatable flexibility with pre-wash and drying modules that can be added whenever you like, directly on site.
Easy cleaning, easy maintenance & easy of use – Continuous operation with no downtime, easy read control panel and easy access for maintenance.
find out more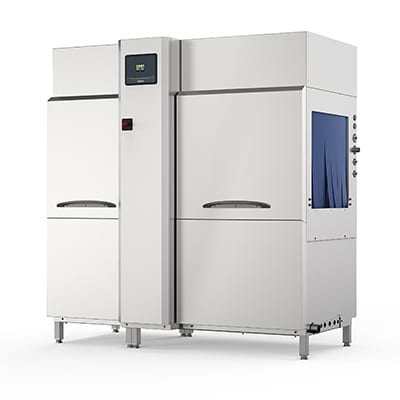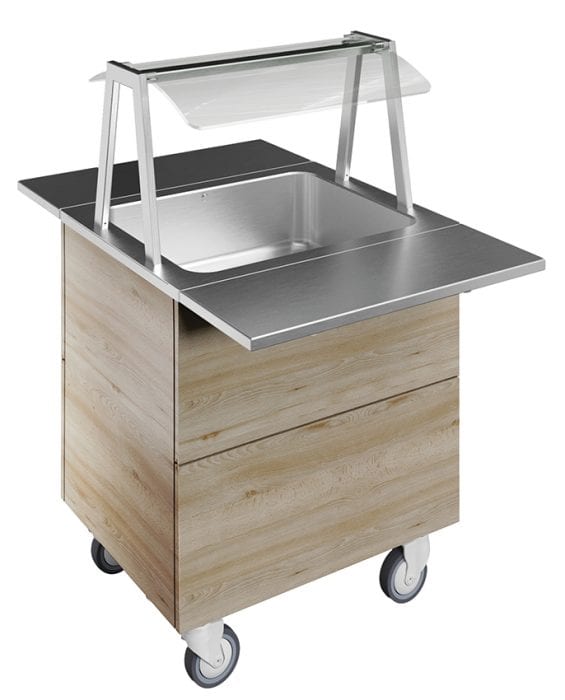 IDEA,
FROM BREAKFAST TO LUNCH
Discover Idea, flexible, compact and multifunctional line and Idea Junior, dedicated to kids.
Uncountable finishes, led lights, new overshelves, perfect tray slider trays are just few of the main characteristics Idea can offer.
No barriers in the structure makes cleaning operations easier and faster, assuring the deepest hygiene. Only freshness in the spotlight.
Make your choice, among the Easy drop-in functions: air-ventilated bain marie, cold food display cabinet or hybrid ones and many more.
find out more

WASH, DISINFECT AND STAY SAFE WITH HYGIENIX
More Health Security – Our experience in medical environment allows us to project equipment providing more higher power of disinfection.
More Performances – Possibility of close contamination zero, for viruses and pathogens. In addition, the performance is excellent and really minimal consumption.
More Peace of mind  – Hygienix products not only clean but most of all disinfect since these dedicated models comply with either DIN 10510 or DIN 10512 standards and perform at the disinfection level A0 of 60 as defined by the UNI EN ISO 15883-1 that normally only applies to medical equipment.
find out more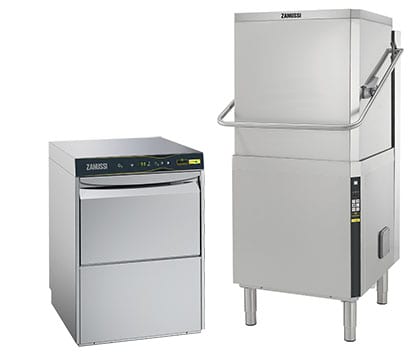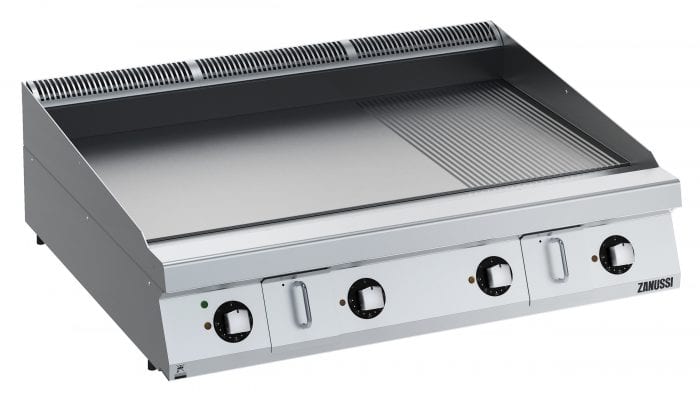 EVO900 FRY TOP HP
NON-SCRATCH, EASE OF CLEANING, FOOD SAFETY
Extreme SCRATCH RESISTANCE, CORROSION RESISTANCE and EASE OF CLEANING are guaranteed by the special production process of the cooking plate.
FOOD SAFETY, first of all!
Non-stick plate properties are improved by the rough finishing of the surface.
Outstanding results, even in the toughest conditions, are delivered thanks to the Heavy duty construction.
find out more

MAGISTAR COMBI
A LIFE'S CHOICE
MORE SAVINGS Cleaning costs reduced thanks to fast and powerful automatic washing, which also includes the automatic descaling of the boiler.
MORE INTUITIVE The new touch interface is even easier and more intuitive to use: it guides you with tips in more than 30 languages.
MORE LOGIC Choose your preparations and Magistar Combi will show you the best cooking sequence to save time and energy.
find out more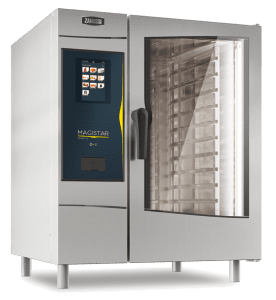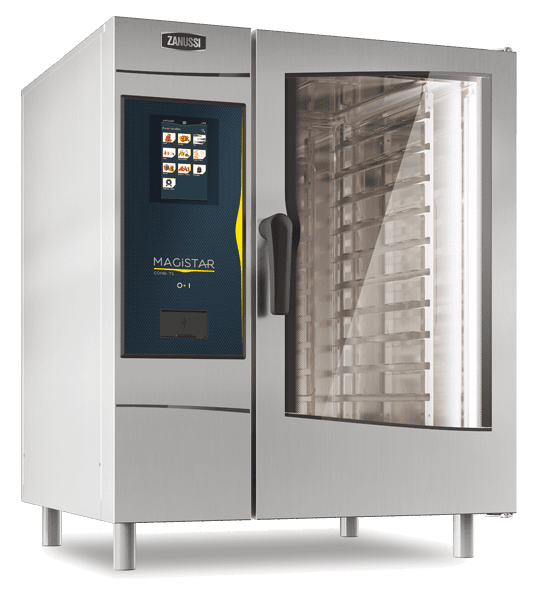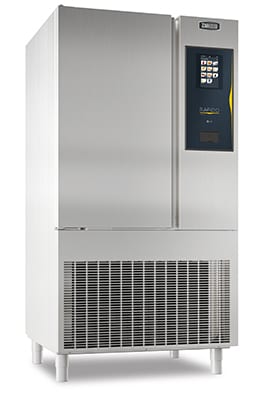 RAPIDO CHILLER
LESS BACTERIA, MORE PRESERVATION
MORE PRECISE
Thanks to a high-precision algorithm, Rapido Chiller calculates the time required to complete the chilling cycle.
MORE STRAIGHTFORWARD
The new touchscreen interface is incredibly easy and intuitive. It guides you through every function and suggests the optimal work flow.
MORE VERSATILE
Special cycles allow you to expand your production.
find out more

POLISHED OR BRUSHED CHROME FRY TOPS?
Make your choice between Polished or Brushed Chrome fry tops. For sure, both guarantee constantly perfect results: chrome cooking is good for your health.
Polished chrome fry top ensures maximum cleanability during the service, avoiding the mixture of flavors when changing one type of food with another.
Otherwise, choose the Brushed chrome which is highly resistant to scratches, assuring easy cleanability at the end of the working day.
Zanussi Professional Fry Tops fully comply with the European Food Contact Material Regulation (EC) no. 1935/2004.
find out more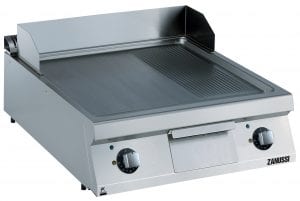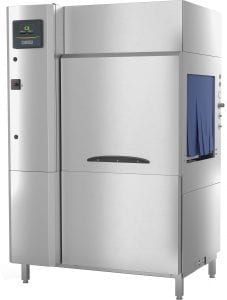 SINGLE RINSE RACK TYPE
HYGIENIC, FIRST OF ALL
DURABLE Built to last using high quality materials, Single rinse Rack type dishwashers offer the very best price-performance ratio.
HYGIENIC thanks to the independent rinse and wash circuits, tank with fully rounded corners and strip curtains that separate the rinsing from the washing areas
HIGHLY EFFICIENT Real rack efficiency on water and energy consumption
FAST, EASY AND FLEXIBLE Fully customizable machine direction and upgradable accessory not only on-site but also over time provide maximum flexibility.
find out more