WHEN YOU NEED IT, 
ZANUSSI 
IS THERE FOR YOU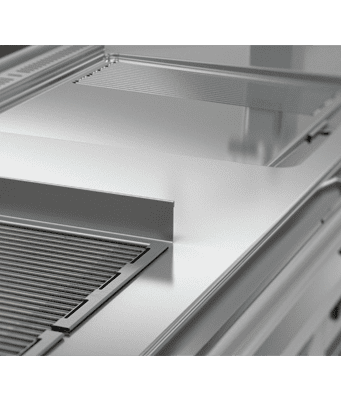 Unique Cooking Top:
AS YOU LIKE IT!
Zanussi Professional presents the EVO700&900 Unique Block!
STURDINESS The utmost reliability in withstanding pressure, force, or stress during peak hours in any kitchen environment is guaranteed by the Unique top design of the EVO700&900.
CLEANABILITY & HYGIENE Cleaning operations are even simpler thanks to the pressed worktop with smooth rounded corners, together with the Unique top, assuring the maximum hygiene.
CUSTOMIZATION Make your own Unique cooking block! Choose among the wide selection of electric cooking functions available and among the various options.
Dowload the brochure

Do you need to cook, gratin or just keep food warm?
THE SALAMANDER IS THE ONE TO CHOOSE
FAST heat up time, only 20 seconds to work at full performance, thanks to the special electric heating elements
FLEXIBLE: 2 independent zones can be activated separately
ENERGY SAVING: the appliance can be switched on when needed, thanks to plate detection bar
EASY TO USE: continuous intuitive time setting through a rotative knob
EASY CLEANING: removable stainless steel drip tray and chromium-plated steel grids for all models
find out more