TAKE AWAY AND DELIVERY
What if you could increase prepared orders batch size in order to maximize order intake during peak moments without affecting food quality? Order must be prepared as close as possible to the pickup moment in order not to lose quality.
And what if you could always grant to your customers constant sanification of the prepared orders waiting for them? Prepared orders are exposed to open environments without control over bacteria/virus contamination.
Safe Food Holding holds multiple orders at the desired temperature while sanitizing its content through UVC lamp. It keeps multiple packaged meals ready for pickup, so you can have hot and tasty food delivered to your customers without worrying about bacteria proliferation.*/**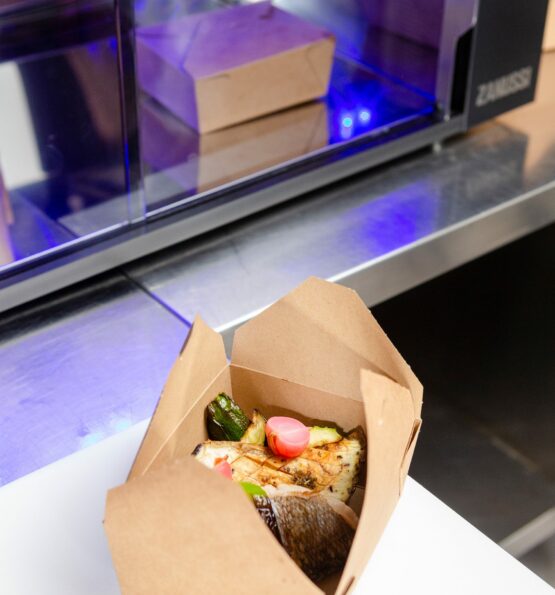 THE UNIQUE '3-BARRIER' TECHNOLOGY
Ventilated heating system to envelop the packaged meals with hot air and preserve the original taste (temperature up to 85°C)
Up to 99.9% bacterial reduction on food packaging*, thanks to fast heat recovery in combination with the UVC LED mounted on the ceiling, which also kills bacteria and viruses
A photocatalytic nano-coating on both stainless steel handles creates an outer barrier ensuring up to 99.9% antibacterial activity** while providing constant sanitization.
*test performed by the University of Udine on Escherichia coli and Staphylococcus aureus, using pizza
boxes and paper bags, setting the temperature at 75 °C for 10 minutes. The results may vary depending
on the packaging materials used and the distance between the packages and the UVC LED (test
report available on request).
** tested by third-party notified body according to ISO17094:2014 simulating a kitchen environment (with
light source according to ISO14605).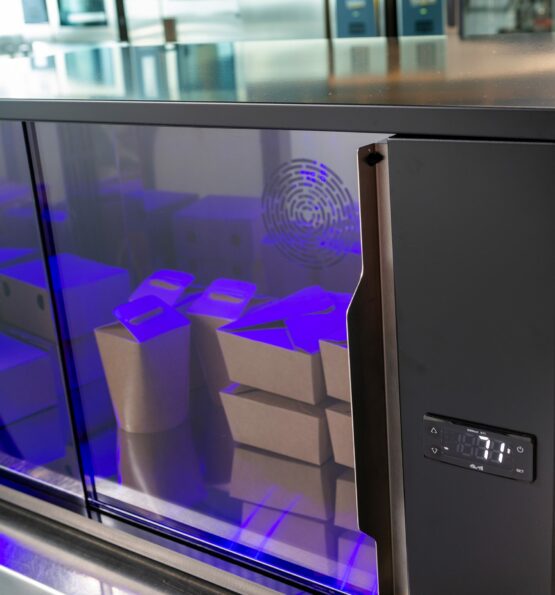 MAIN CHARACTERISTICS
Extra silent – 48dBA Designed for kitchens but ready for libraries
Just Plug-in and start operations!
Small footprint – Reduced footprint to fit anywhere, also for installations on 600 mm depth tables
Environmental Friendly – Low energy consumption: 6 hrs usage is the equivalent of 1 day of 75 Watt bulb lamp
STACK UP TO 3 UNITS
The Safe Food Holding display can accommodate large paper shoppers, paper boxes or pizza boxes (pizza diameter up to 33 cm). It's possible to stack up to 3 units that can be connected on the back requiring only 1 plug for the whole execution.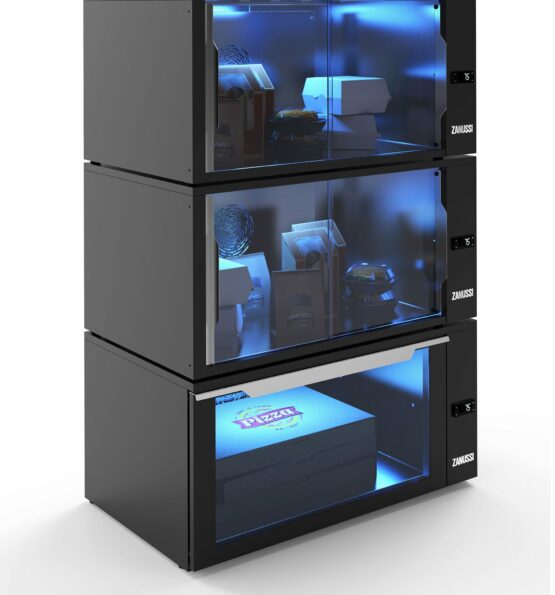 Go extra-large!
Don't limit your delivery.
The Safe Food Holding is now coming with a drop-down door to accommodate larger paper shopper or larger pizza boxes.