In 1916 ZANUSSI Professional released its first wood stove, that made cooking easier and quicker. Today, more than 100 years later, our induction hobs get you cooking straight away.
Modular Cooking offers a range of high-powered appliances for your kitchen, which allows the organization of an ideal work area and guarantees reliability and excellent performance over time, in accordance with the strictest safety standards.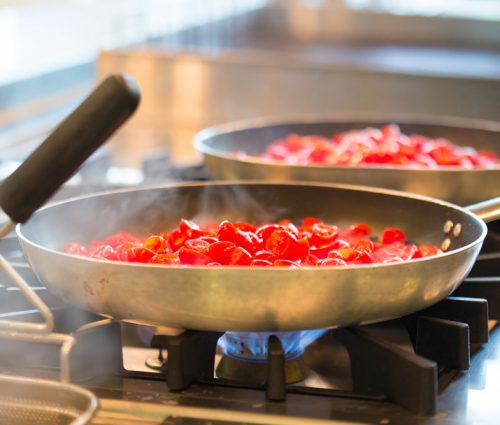 MODULAR CHOICE

fast and
flexible cooking

more power,
greater realiability,
greater speed

Before and after sales,
trust an expert
LARGE PRODUCTIVITY OF A STURDY,
COMPACT AND ERGONOMIC COOKER

EVOlution coming from tradition: EVO700&900
Tradition that brings innovation.
Heritage that gives birth to growth.
There is no better description to present the new ZANUSSI Evo700 and Evo900 modular cooking ranges.
Both Evo700 and Evo900, the great ZANUSSI Professional modular choice, offer a wide range of cooking solution, top performance, excellent reliability and highly robust: all designed for a kitchen with considerable work loads to be performed quickly and with complete quality control.
ZANUSSI designed its products to meet the real needs of professionals and to ensure the utmost innovation and simplicity in any application.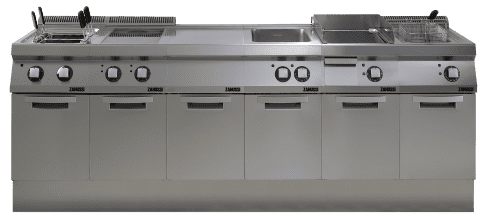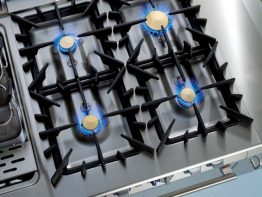 GAS RANGES
Flower flame is the power of saving: guarantee flexibility and efficiency
Flexible performances
Maximum levels of power; solidity; efficiency and hygiene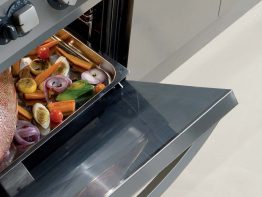 ELECTRIC COOKING
Fast, flexible cooking
Solid and stable: sturdiness and solidity are guaranteed by the single piece panels
Easy cleaning: cleaning is made easier by the moulded steel surface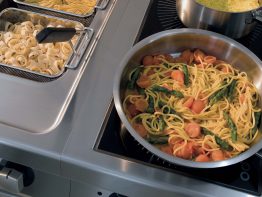 Induction HOBS
More power: induction guarantees power and delicacy all in one
Greater reliability and speed
It is easier to clean the glass ceramic hobs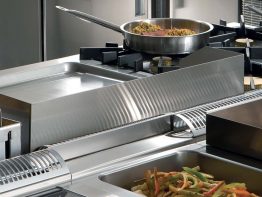 INFRA-RED HOBS
Smooth surfaces
Fast movements
Power and independent control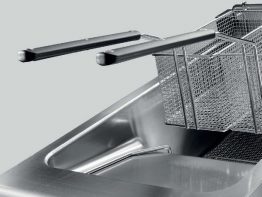 FRYERS
Power and efficiency
Automatic fryer
Long lasting oil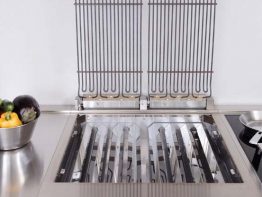 GRILLS
HP grills: speed and savings
Work surfaces are made of 2 mm thick stainless steel
Radiation heating system to guarantee uniform temperature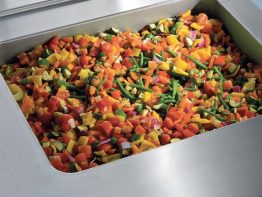 MULTI-PURPOSE COOKERS
Maximum flexibility
Can be used as fry-top, braising pan, boiling pan or bain-marie
Uniform distribution of heat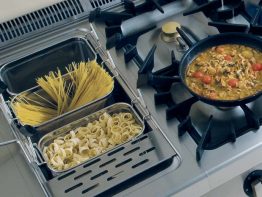 PASTA COOKERS
High productivity and guaranteed savings
Always constant boiling
Automatic and programmable lifting basket system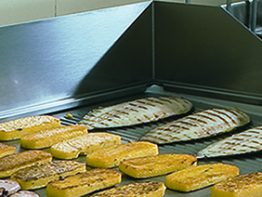 FRY TOPS
Polished or Brushed Chrome
Desired temperature, reached quickly
Uniform Heat distribution
Minimum Heat dispersion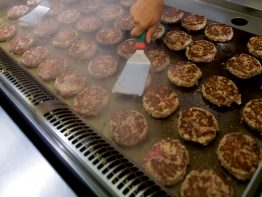 FRY TOPS HP EVO900
Uniform heating and consistent cooking results
Better energy containment
Food Safety guaranteed (European Food Contact Materials Regulation)
The complete range also includes boiling pans, braising pans, bain-marie, solid tops, neutral tops and bases.
FIND YOUR OWN TIME AND CREATE ON THE MOVE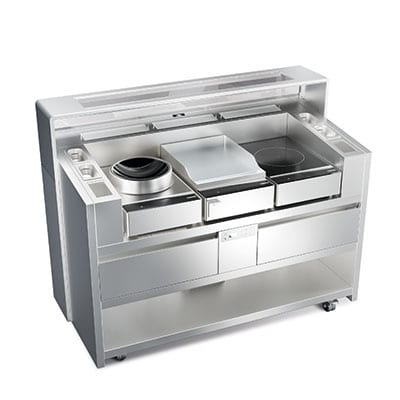 EASY COOKINGPRO
Easy CookingPRO is a mobile counter that fulfills your requirements from breakfast to dinner by adapting to your needs and ways of cooking. Matches and combines various functions depending on your menu.  Always up-to-date and flawless.
The Easy COOKINGPRO design combines glass elements with LED lighting. The light is automatically switched on when you start cooking thanks to the Easy COOKINGPRO Match function, while the glass partition above allows you to see the chef's creativity in action.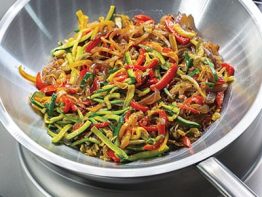 Easy CookingPRO counter
Boost your creativity

using different functions

Induction hobs, wok and griddles give you the possibility to adapt your kitchen
to various moments of the day, by easily being moved from one
location to another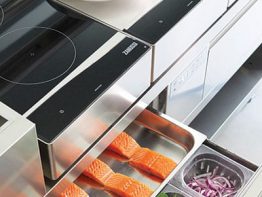 Refrigerated drawers
Ingredients or preparations at hand keeping everything under
control so that food can be served non-stop.
Temperature ranges from 0 °C to +10 °C and each drawer can be regulated
independently.
37 lt capacity fitting GN 1/1 and GN 2/4 each.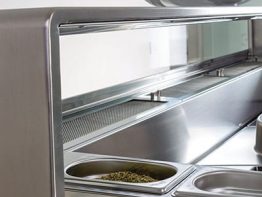 Ventilation system
It's a low-noise air filtration system that has up to 95% capture efficiency.
Guarantees a better environment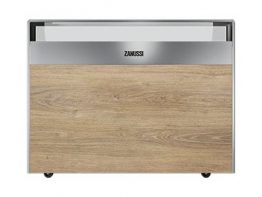 Choose your look
The standard version is available in high grade stainless steel (AISI 304) but you can choose from six different finishes, meeting all your aesthetic needs.
Ambra, Pearl, Agata, Opale, Quarzo, Onice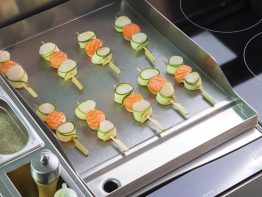 Griddles
Perfect cooking performance non-stick surface, fast temperature recovery and cooking evenness thanks to the 11-mm thick aluminum and AISI 436 stainless steel plate and induction technology.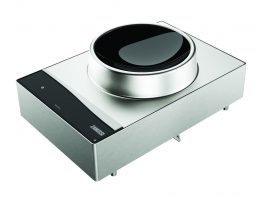 Wok
Glass-ceramic wok bowl 6-mm thick glass-ceramic wok bowl cuvette (290 mm diameter), for durability and easy cleaning. The 3-phase version is perfect for powerful cooking, such as stir-frying vegetables.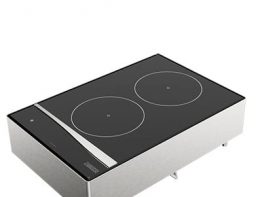 Induction
Plug-in units, designed for tabletop or drop-in installations.
When combined with the counter, the ventilation system can be managed automatically thanks to the Match function, a fan speed that automatically regulated according to the cooking intensity.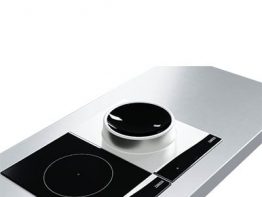 Drop-in functions
Induction Mono Zone, Double Zone and Wok are available as drop-in versions to be integrated in your cooking or servery concept.
Unique Cooking Top: AS YOU LIKE IT!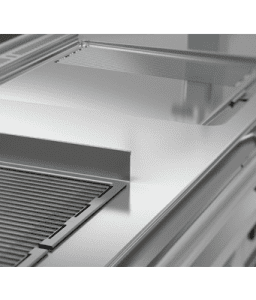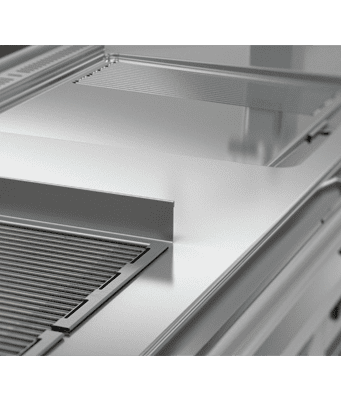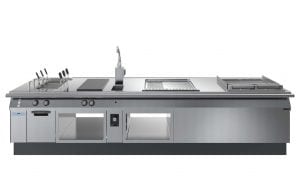 EVO900 Unique Block
Sturdiness, hygiene and customization
Zanussi Professional presents the EVO900 Unique Block.
STURDINESS The utmost reliability in withstanding pressure, force, or stress during peak hours in any kitchen environment is guaranteed by the Unique top design of the EVO900
For an even better stability a reinforced stainless steel basement is available on request.
The unique top, entirely made in Aisi 304 stainless steel, has a high corrosion resistance level to most oxidizing acids and salt sprays.
CLEANABILITY & HYGIENE Cleaning operations are even simpler thanks to the pressed worktop with smooth rounded corners, together with the Unique top, assuring the maximum hygiene!
There is also the possibility to choose also the H2 pass-through hygienic bases.
CUSTOMIZATION
Make your own unique cooking block!
Choose among the wide selection of electric cooking functions available and among the various options:
Different colors for side panels and kicking strips
One-piece handrails
One-piece portioning shelves
Personalized operating side
Dedicated accessories to make your life easier: plugs, salamander supports, water columns and utensil sinks
Powerful appliances for faster service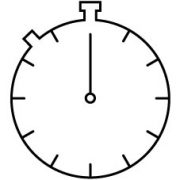 MISCELLANEOUS
COOKING EQUIPMENT
Lean workflows are strategic for canteens preparing thousands of meals per day.
ZANUSSI Professional understands your challenges and helps you to optimize and improve your productivity offering you a wide range of cooking solutions:
Steam and electric boiling pans
Stockpot stoves
Fryers
Salamanders
Jet grills
Automatic pasta cookers
Automatic tilting bratt pans