CHILLING FROM A TO Z
More efficiency, less energy consumption for more savings
ZANUSSI Professional refrigeration appliances supply a tailor-made solution to every customer's need through high-quality components and materials, total food safety, outstanding flexibility and energy efficiency for short payback: quality and reliability at a competitive price, always!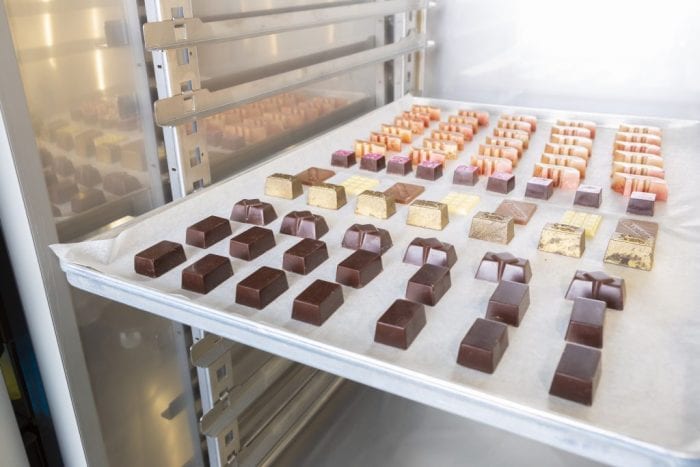 Food safety, performance, savings

MORE SAVINGS

RISK-FREE STORAGE

GUARANTEED SAFETY
The essential features of each Zanussi appliance. Fresh produce stays fresher for longer: reduced costs for kitchen professionals and considerable energy savings.
New insulation system,  Active Defrost System, high efficiency components and advanced electronic functions are the key to reduce energy loss.
Easy, accurate cleaning thanks to rounded inner corners of both cell and drawers and easy to remove runners and grids.
Zanussi offers all the solutions you may need: from the smallest ice-maker to the largest cold room. Both tailor-made and popular ready made configurations offer great performances and flexibility.
More capacity and best in class in energy efficiency
HOW TO REDUCE ENERGY LOSS
Zanussi Professional introduces the EUROPEAN ENERGY
CLASSIFICATION FOR PROFESSIONAL REFRIGERATED APPLIANCES to guarantee the consumer:
Verified operating parameters
Certified energy consumption
Real net usable capacity
Watch the NEW video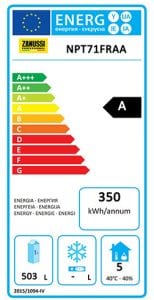 Label complies with Commission Delegated Regulation
(EU) 2015/1094 of 5 May 2015
Less bacteria, more preservation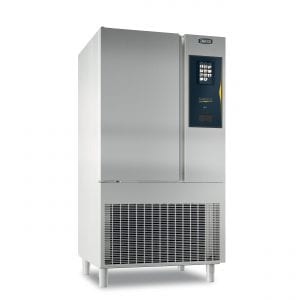 BLAST CHILLER FREEZERS LENGTHWISE
Blast chilling, carried out following the correct time and temperature parameters, prevents the proliferation of bacteria. This extends the shelf life of food. At the end of the blast chilling process, the product can be kept in the refrigerator at +3 °C for 5 or 6 days, in compliance with HACCP standards.
Rapido Chiller, thanks to its innovative technology, preserves the texture, appearance, flavors and nutritional properties of the food. In addition, it improves the safety and organization of your work in the kitchen.
In short, you save energy, gain work hours and reduce waste chilling process.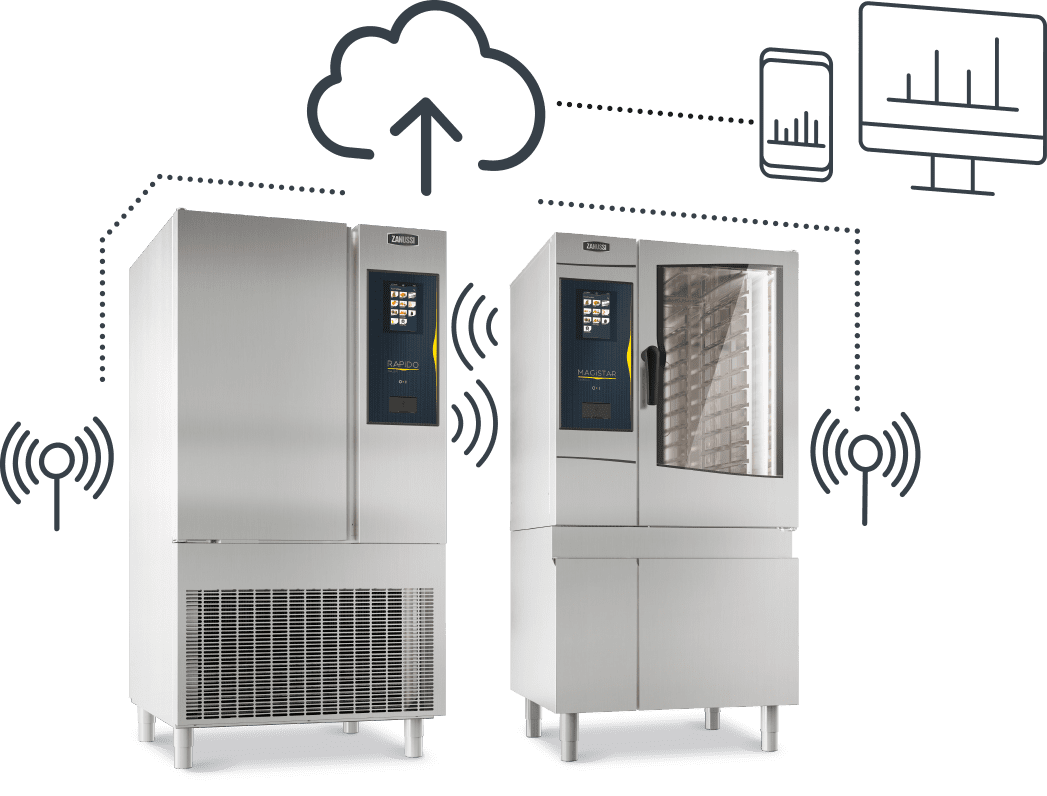 CONNECTIVITY &
MATCH FUNCTION
Monitor your blast chiller freezer in real time from any smart device or computer thanks to Zanussi connectivity services.
The data helps you to optimize your production flow and reduce maintenance costs, ensuring that your business runs in line with food safety requirements.
Thanks to the new Match function, you can not only cook&chill but also prove&bake or thaw&cook.
Watch the video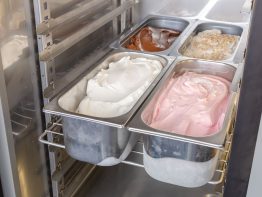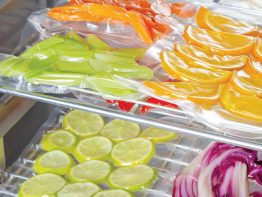 SPECIAL CYCLES FOR GREAT PROFESIONALS
Ice cream: produced at a temperature of -8/-10 °C. For ice cream display cabinets, the temperature is -14 °C: your ice cream will remain rich and creamy and will not form ice crystals or appear translucent, but always will be delicious.
Chocolate Cycle: you can melt or temper chocolate professionally using this special cycle.
Controlled proving: manages the production of all your leavened products. Choose when the mixture needs to be baked and Rapido Chiller will have it ready (it automatically adjusts accordingly).
Smart Thawing: with the appropriate automatic temperature management and thanks to the Airflow air circulation system, frozen food is brought to the ideal temperature for servicing or cooking.
Raw food safety: sushi and sashimi can be served with no problems and no anisakis thanks to blast freezing to -20 °C at the core and holding for 24 hours at the same temperature.
Sous-vide: the special cycle for all vacuum preparations.
Yogurt: you can produce delicious artisan yogurt thanks to the new controlled fermentation and conservation program, perfect for serving or as an ingredient in sweets and cakes.
Beverages Cycle: brings wine and beverages to the perfect temperature.
More efficiency, like a cellar

REFRIGERATED CABINETS
Zanussi NPT Active and NAU Maxi models show the most efficient and innovative professional characteristics:
Capacity: Available in 670 and 1430 liters, NPT Active and NAU Maxi models feature 50 liters more compared to an equivalent cabinet. The volume is increased by optimizing the placement of the cooling unit and hidden evaporator.
Cleanability: Ergonomically designed runners, supports, grids and rounded corners for easy and safe cleaning operations.
Temperature uniformity. The  vertical and horizontal air circulation guarantee best temperature uniformity and excellent food preservation.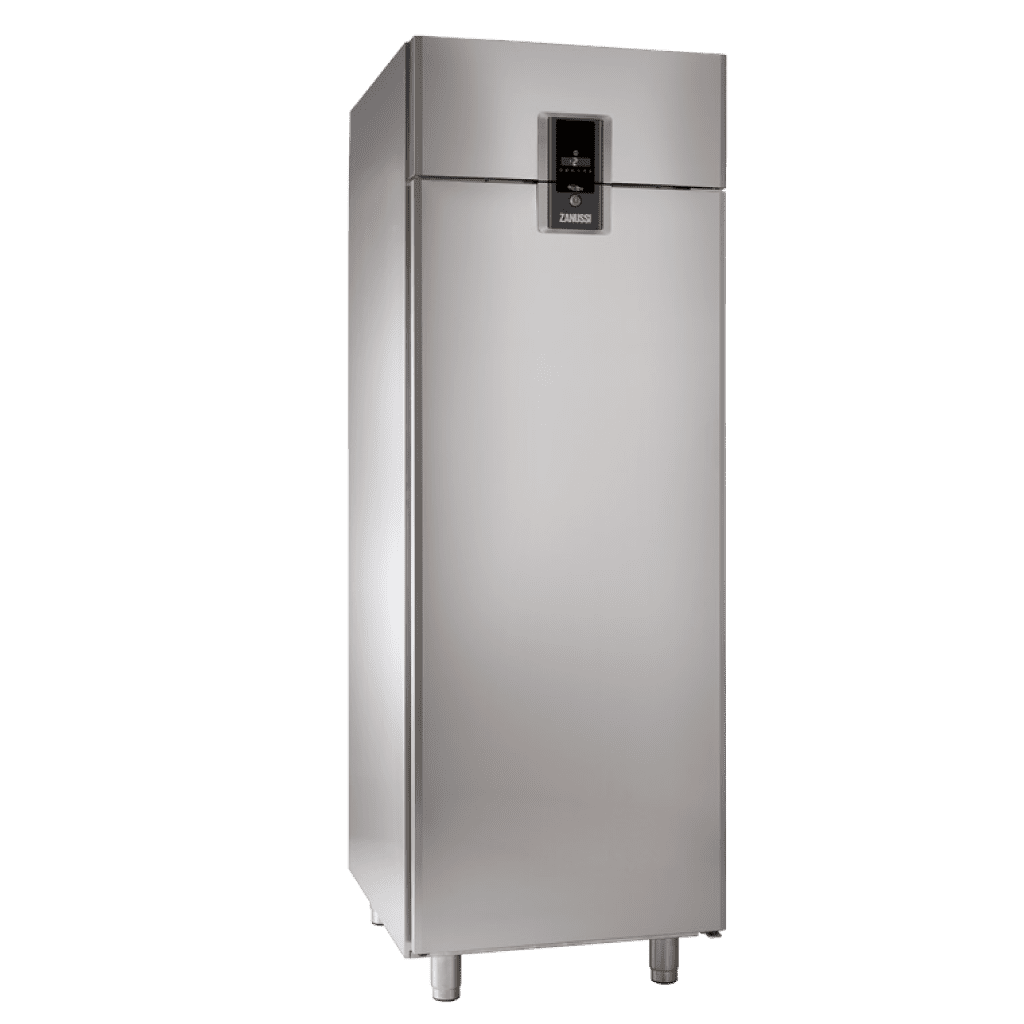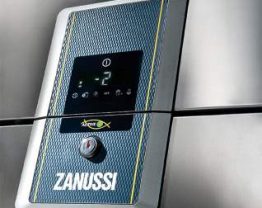 NPT ACTIVE
Clean-free condenser: the wire-frame condenser does not require periodic maintenance
Reduced energy costs with automatic Active Defrost which starts only when necessary and runs for the shortest time possible
 3-Chamber balloon gasket to reduce energy loss
Large digital display with advanced functions
Rounded corners make cleaning faster and simpler
LED lights to reduce energy consumption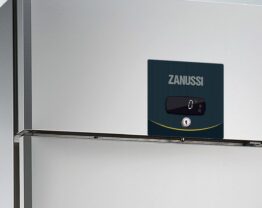 NAU MAXI
Climate Class 5 guarantees optimal performance, even in critical climate conditions (40° kitchens)
Store more, higher store capacity (50 full liters more food) with the same footprint
Optimum visibility, the new design of the control panel means better visibility thanks to bigger icons and ease of use
Updating your refrigerator from an class G to a Class B, can reduce your costing on bills, up to 72%*, compared to an old refrigerator in class G with lower investment (*calculated on a 503lt full door refrigerated cabinet).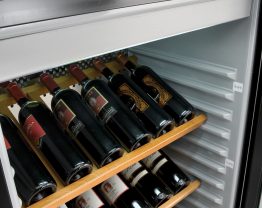 AGI SERIES
Specifically designed refrigerators for fish and wine
400 liters cabinets compact and high performing
Eco gas: Zanussi Professional appliances use cyclopentane in their insulation to give far superior performances
Easy clean: store food hygienically with easy to clean rounded corners and integrated shelf supports
Control panel: easy and precise programming of temperature thanks to the digital control panel
A PERFECT BALANCE OF QUALITY & PRICE

REFRIGERATED COUNTERS
The ZANUSSI Professional refrigerated counters integrate the cold storage function with the food preparation function optimizing space and increasing flexibility in the kitchen work flow.
Both refrigerators and freezers are available in several dimensions and door/drawer/worktop configurations.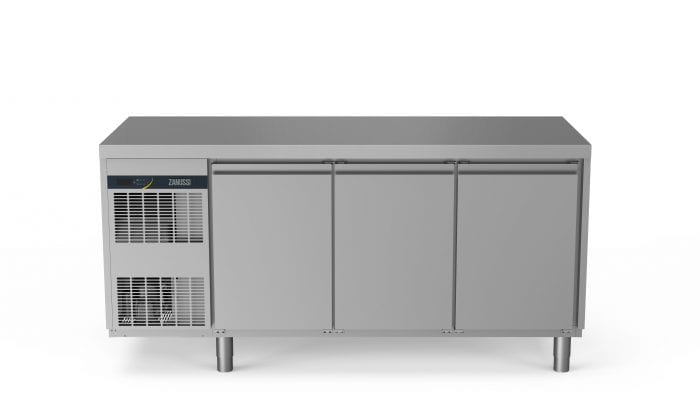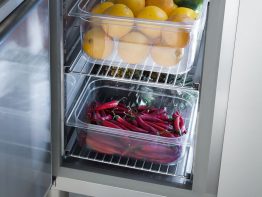 NPT ACTIVE HP
Class and quality: Climate class 5 and class A energy
rating means that food stays fresher for longer even when the external temperature is 40°C
Rounded corners and feet make cleaning simpler and more hygienic
Customization: modularity equals infinite custom configurations. Perfect alignment with static preparation counters thanks to clever design of sides
Store more: 50 liters greater storage capacity compared to similar-sized models on the market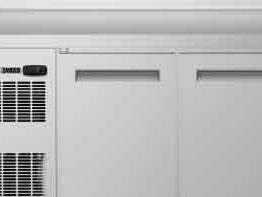 NPT AU LINE
Hygiene and maintenance: easy, accurate cleaning thanks to rounded inner corners of both cell and drawers
Eco gas: superior, durable insulation using cyclopentane which does not harm the environment
NPT AU series has large, bright digital displays with IP65 rating ensuring protection from dust and water jets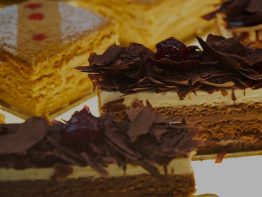 PASTRY AND BAKERY COUNTERS
Class A energy efficient refrigerated counters, thus saving energy consumption
R290 gas has a less aggressive effect on the refrigerator's components, increasing performance and reliability
Climate class 5 ensures optimal preservation
Maximum capacity in 2, 3 or 4 door models, up to 9 (400x600mm) trays per compartment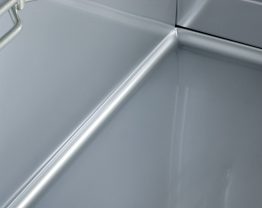 SALADETTE
Easy to clean and super hygienic thanks to the rounded inner corners and grid supports
Better, long-lasting and pollution-free insulation using cyclopentane gas
The 3-digit digital display shows different functions available
High or low humidity setting which is simply activated at the touch of a button, ensuring the perfect preservation of different types of food
Automatic defrost device which can also be manually activated

BLAST CHILLER FREEZERS CROSSWISE
The ZANUSSI Professional blast chiller freezers crosswise are the ideal equipment of modern kitchens where food quality, safety, no food waste and kitchen workflow efficiency are the keywords.
Based on the number of meals served daily, the blast chiller freezers crosswise offer a tailor-made solution for every kitchen to optimize space and time while keeping the quality of the food served as it was just prepared or cooked. Put the food in the blast chiller freezers crosswise, select a chilling or freezing cycle and push Start.
ZANUSSI Professional blast chiller freezers crosswise can be fully integrated with the ZANUSSI Professional ovens and the corresponding roll-in cabinets sharing the same trolley solutions.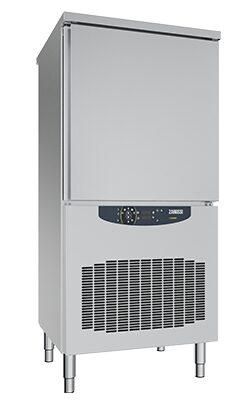 ICE CUBES OR GRANULAR ICE TO SUIT ALL NEEDS

ICE MAKERS
The ZANUSSI Professional ice makers complete the refrigeration range for bars, pubs, hotels, fast food  outlets, restaurants and commercial retail spaces.
Tailor-made solutions are available for light and heavy duty sites, in terms of ice production per day and footprint needs. Ice-makers produce ice cubes or granular ice to satisfy your specific needs.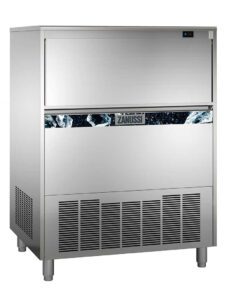 EVERY COLD ROOM IS UNIQUE

COLD ROOMS
The ZANUSSI Professional cold rooms optimize the space available in kitchens and storage areas thanks to the all-inclusive solutions delivered in one shot to be assembled on-site.
The mini-cold room range covers the most requested configurations, still allowing the possibility of customization, re-layout and upgrading of the cold room itself.